The Benefit of Regular Car Maintenance at Landers Dodge Chrysler Jeep® RAM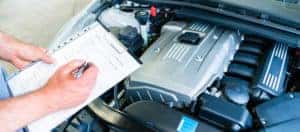 No matter how new your current vehicle is, keeping up with routine maintenance is paramount. At Landers Dodge Chrysler Jeep® RAM, we encourage our Jeep drivers and RAM customers to keep their cars finely tuned. Car care is essential, and it's often forgotten by drivers who are consumed by their busy schedule. Allow us to demonstrate the importance of vehicle care. Bring your Jeep Renegade to our Bossier City, LA Jeep dealership.
If your safety is a top priority, then it's a no-brainer that routine car care is integral to this. By having a skilled mechanic perform your routine inspections and maintenance, you can take to the road in your 2019 RAM 1500, for instance, with the assurance that all of your vehicle's components are healthy. Routine car maintenance also results in fewer replacements and repair costs. You'll be able to protect your investment, acquire better fuel mileage, and truly get the most out of your vehicle.
The responsible car owner in you knows all this and our Dodge service center near Shreveport, LA is happy to take your Dodge Charger off your hands to give it the proper and professional tender, love, and care it deserves.
Our Service Center in Bossier City, LA
Our service center in Bossier City, LA offers a multitude of amenities, making your service experience with us a breeze. While you wait for your 2019 Jeep Grand Cherokee to get its oil changed and wiper blades replaced, take advantage of the free Wi-Fi in our comfortable lobby. Because of our early bird hours, you can schedule your appointment as early as possible to get on with your day. While our certified technicians service your RAM truck and replace its components with Mopar® parts or Michelin tires, you can use our available rental vehicles and shuttle service. While you're at it, browse through our parts specials in case there's a deal that can help you save. Lastly, we'll tell you about our Express Lane Service if you must be in and out in a hurry – no appointment necessary for this one!
Meet us at 2701 Benton Road in Bossier City, LA to get your vehicle inspected. We'll take care in performing your routine maintenance and keeping your vehicle running smoothly. So stop in for your next auto maintenance today! We promise you'll experience a difference in your vehicle.